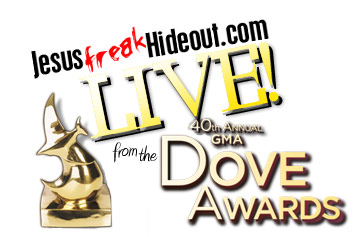 Hey everybody! It's that time again. The 40th Annual GMA Dove Awards are tonight! We're reporting live from the press room at the Grand Ole Opry to give you moment by moment coverage of the GMA Dove Awards!
4:45 EST — John DiBiase here! Getting settled in the press room. The ceremony's going thru some dress rehearsals and such. Artists and press are still arriving, so it'll be awhile before the festivities really get going. But we'll keep you posted!

5:33 EST – Just talked to Chris Sligh. He has an idea for some articles to write for JFH about the state of CCM. Hmmm… looks to be some really good stuff too… Anyway, grabbed some munchies and going to chill at the table for a bit…
5:46 EST – Starting off awards with the Childrens projects. The emcee for the pre-show is kinda painful to listen to — bad, bad, bad jokes), but for this non-televised portion, it's not a huge deal…. And "An Island Christmas" wins the award.
5:48 EST – Children Music Album of the Year is next… "Absolute Modern Worship For Kids 4" wins it! Chance Scoggins came up to accept the award and thanked everyone he HOPES to work with instead of those he has. Pretty dang funny, actually.
5:51 EST – Musical of the Year is next… And the Dove Award goes to "God bless the USA"
5:54 EST – Instrumental Project is up now. (Presenters made a waldrobe malfunction joke about pants. Hopefully it's the only reference to that…). The Chronicles of Narnia: Prince Caspian score gets it! (That was a good score, too– better than the first)
5:55 EST – Music Packagin is up!  "Hawk Nelson is My Friend" deserves it…. and the Dove Award goes to?….. Third Day's "Revelation" wins it! Not bad, not bad.
5:58 EST – "I'll Say Yes" by Brooklyn Tabernacle Choir just won for Choral Collection. One of the Word Music guys is up to accept the award. Kind of funny none of the Disney people were here to accept for Prince Caspian…
5:59 EST – Children 18:3 and Paul Williams are presenting the next award. Wow. This is hilarious! Award is for Bluegrass Recorded Song: And the Dove Award goes to "They're Holding Up the Ladder" by Jeff & Sheri Easter.
6:01 EST – Rock Album of the Year is up now! Go Remedy Drive! Winner is……. "Never Going Back To OK" by The Afters! Don't worry, we love you TOO, guys! A lot of great albums in that category.
6:05 EST – Rock Record Song now…. Phillip LaRue is up as one of the presenters. Here's hoping for "The Hunger" by Fireflight. But the winner is?? … "Lost" by RED! Why such an old song?! (So far I'm off on each one I hope for, ha! 😉 )
6:07 EST – Phil's now actually announcing "Inspirational Song"… Dove Award goes to "A New Hallelujah" by Michael W. Smith! Integrity Music came up to accept the award for him.
6:08 EST – The Afters are now back here to talk about winning their Dove. They just dedicated it to their manager who recently passed away from cancer. We love these guys!
6:11 EST – As The Afters are back here talking to us, Meredith Andrews is performing "You're Not Alone" on the stage…
6:16 EST – After Edmund and Living Waters Trio are announcing together now. Worship Song Of the Year is being presented. And the Dove Award goes to…. (I'm gonna guess Tomlin, eh?) Ha! It's "Mighty To Save" by Hillsong! Wow. Tomlin's been upset by the Aussies! 🙂
6:18 EST – Traditional Gospel Song Of The Year… Blind Boys of Alabama's "Free At Last" takes it!
6:21 EST – Traditional Gospel Album Of The Year…  Blind Boys of Alabama's Down In New Orleans! These guys are SO cute!
6:24 EST – Hillsong just came back here and is talking about their new album Faith Hope and Love coming out this July… Rock Album is up on the screen! It's tough competition this year! The Winner is DECEMERADIO with "Satisfied!" Congrats, brothers!
6:26 EST – Inspiration Album of the Year… Great God Who Saves by Laura Story wins it!
6:28 EST – Brandon Heath's "Give Me Your Eyes" just one Pop/Contemporary Record Song of the Year — beating SCC, Natalie Grant, Switchfoot and Francesca…
6:30 EST – NOT COOL! The pre-show's lame emcee just made a joke about it being a major upset against "heavyweight" Steven Curtis Chapman. If he only knew what "Cinderella" means to him… This may sound harmless, but you'd have to hear how it was delivered. Poor, poor taste.
6:31 EST – Blind Boys are back here! Christmas Album is up now. Praise & Worship Album just was announced but the winner wasn't here and we have no sound, so we're not sure who scored that one. For the Christmas album… the win was obvious. Casting Crowns just won it for Peace On Earth. I knew they won it when they announced they were recording one last year… Would have liked to have seen Sara Groves or the Barlow sisters get it, to be honest.
6:34 EST – Aline Barlos just won an International Award (the monitor sound just kicked back in as they announced her)
6:37 EST – J.R. is now performing… wearing one white glove in true Michael Jackson fashion, too…
6:39 EST – DecembeRadio just came back here to talk to the press. Congrats, guys! They're talking with us about their award-winning album, Satisfied… J.R. is still performing on the monitor.
6:43 EST – KJ, Stephanie Smith, and Ayiesha just announced Country Recorded Song and handed it out to Point Of Grace and Cindy Morgan for "I Wish"
6:45 EST – Rap/Hip Hop Album is up. Go Group 1 Crew!! Ayiesha is announcing…. Dove Award goes to Ordinary Dreamers by Group 1 Crew!!! (Our pick finally wins! Ha) Congrats, guys!
6:47 EST – Bluegrass Album is up now (who orders these categories?!?!). The Dove Award goes to… We Are Family by Jeff & Sheri Easter! KJ just joke-accepted it. Fantastic. 🙂 Now he is announcing Long Form Video — GO TOBY!!!! And the Dove Award goes to… TOBYMAC!! Congrats, brother!!
6:49 EST – There were going to skip someone accepting the awards but those behind the production just came up at the last moment… Now the next three presenters are Producers: Bernie Herms, Ian Eskelin, and Ed Cash. Group 1 Crew just got back here. The Producers are announcing the Spanish Language Album on the monitor.
6:53 EST – And Rescatme by Seventh Day Slumber just one for their Spanish record!
6:54 EST – Moving along swiftly… Urban Album of the Year is up. Ed Cash is announcing… The Fight Of My Life by Kirk Franklin wins!
6:55 EST – Rock/Contemporary Recorded Song is up now. Group1 is even nominated! Tough competition. NEEDTOBREATHE, BABY!!! "Washed By The Water" is an amazing song. Congrats, guys!
6:59 EST – Contemporary Gospel Recorded Song is on stage now… G1C is still here, talking about their next project, and turning dreams into reality… No sound on the monitor, but I think it was LaRue Howard for her cover of "How Great Is God." Dove for Country Album is Around the Bend by Randy Travis.
7:03 EST – Revive and Laura Story are now presenting. They're busting on each other (albeit scripted), which is pretty funny… Rap/Hip Hop Recorded song is next. And the Dove Award goes to our boy KJ-52 for "Do Yo Thang!" Congrats bro! Haha he just took video of the audience saying "Hi Jacob" for his son. 🙂 Classy
7:06 EST – Contemporary Gospel Album is next. And the Dove Award goes to Martha Munizzi for Change The World.
7:11 EST – Downhere is performing right now on stage… no sound back here of course.
7:14 EST – Songwriters are presenting now… Cindy Morgan is reading off Songwriter of the Year… (GO STEVEN CURTIS!!…) And the Dove Award goes to?…… Steven Curtis Chapman!! We love you buddy! …That's so awesome! VERY emotional speech from Steven… reeeally hard not to cry along…
7:18EST – Seventh Day Slumber just came back here as they're announcing Producer of the Year. We're guessing it's Bernie Herms… since we don't recognize him. 🙂
7:20 EST – Special Event Album is up now… no surprise, but Passion: God Of This City takes it! Martha Munizzi is on her way back here to talk to us…
7:30 EST – Pre-show is over. It's half-time. Artists are filtering through here faster. LaRue Howard was back here, now Laura Story…
7:37 EST – Aline Barlos is back here… complete with translator! The International Award looks pretty sharp, too! Never saw one before…
7:38 EST – If you're curious at all why I have this all in EST while we're in Nashville which is an hour earlier… The simple and silly reason is that we're from EST, my laptop is on PA time and I don't feel like messing with even just the hour time difference, ha. Lazy, probably, but I rather focus on what's going on here instead of the time. 🙂
7:41 EST – Two of the Downhere guys are back here and the monitor is rudely showing a woman being suited up for the show. Yikes…
7:47 EST – Producer of the Year Bernie Herms is back here now… and that woman I mentioned who's a victim of backstage camerwork was Rebecca St. James (poor girl!)… prepping for the live broadcast tonight. Point Of Grace is coming back here next… Amy just asked them about their new Daddy song, "King of the World". :o)
7:50 EST – Amy just asked Cindy Morgan about the inspiration for it. Cindy says she wrote it to her husband as a birthday gift! Sweet! ….. RE:Blog comment— Paul, basically, we have a live feed for the event in here, even when it's not broadcast on TV. So there was a camera showing someone adjusting the back of RSJ's warddrobe and it was just REALLY weird and awkward. Nothing bad was seen, but it was just like… why are you showing this on the camera????…. back to the press room:  Point Of Grace's Denise Jones just said she got into a car accident on the way to the Doves and missed accepting the award! That stinks….
8:04 EST – Back from a potty break. Ha. Mary Mary is kicking off the actual Dove broadcast! I swear this song reminds me of Michael Jackson's "Don't Stop Til You Get Enough"
8:08 EST – They just announced the performers — long list! Now the Munizzi sisters are announcing Male Vocalist of the Year… GO JON FOREMAN! But I think Tomlin will get it (perhaps MAYBE… Heath or Camp might have it)…. Dove goes to Brandon Heath! Congrats man.
8:10 EST – RSJ and former Out of Eden member Lisa Kimmey are the backstage hosts. Now they're talking to Mr. Toby McKeehan (aka TobyMac)
8:12 EST – Yeah baby! Third Day's now performing the song "Revelation." This song's freakin' awesome.
8:19 EST – Our boy TobyMac is back here talking to us about his Dove win.
8:22 EST – I just asked Toby about his upcoming record and he kept it kind of vague, but just said the label's been cooperative with letting him take his time with it. Group of the Year is up on the monitor. GO SKILLET or THIRD DAY! 🙂  … please? …. Oh come on!! Casting Crowns? Sad, sad, sad….It's their fifth year in a row! Skillet and Third Day had banner years last year and 3D made an impact with the Music Builds Tour. Would love to see more variety for this award, people. CC only released a Christmas album last year and will have a new album this October. Just would like to see things get changed up a bit. Give rock a chance, GMA!
8:25 EST – To make matters WORSE we're missing Remedy Drive's performance of "Daylight Is Coming"!!! Ugh  Looks cool at least…

8:26 EST – And now we can't hear the lovely Francesca Battistelli play 🙁
8:28 EST – We just caught the tail end of Chris Sligh's performance and now we have the audio as Jonathan Nelson plays.

8:29 EST – Tenth Avenue North is now up. We would love to see Remedy Drive, Francesca or Chris win this one especially!
8:36 EST – And now Casting Crowns is back here after winning for their Christmas album and for winning Group of the Year for the fifth time in a row. On the monitor, Fireflight is announcing Urban Recorded Song.
8:38 EST – And Mary Mary wins for "Get Up."
8:41 EST – Crowns just left. Chris Tomlin's been performing on stage….
8:48 EST – Lisa Kimmey and Rebecca St. James just talked to Mary Mary and now just announced Canton Jones, Tye Tribbett, and DecembeRadio are presenting Female Vocalist of the Year… go Francesca!
8:51 EST – And the Dove goes to…. NATALIE GRANT! Congrats, Natalie!
8:52 EST – Marty and Mark from 4Him and Wayne Watson are announcing the Angel Award and recognizing Jars Of Clay for Blood:Water Mission! Congratulations, brothers! We love you!
8:54 EST – Marty Magehee just announced an honor to Pop Winans after his recent passing.
8:55 EST – The guys are now announcing Sandi Patty for her performance, and gave her a standing ovation!
8:59 EST – They're now honoring Dottie Rambo, who also has passed, with a string of tribute performances.
9:08 EST – Very nice Southern Gospel tribute to Dottie. Mary Mary are back here now. Commercial break for the broadcast…
9:15 EST – Brandon Heath is rocking "Give Me Your Eyes" on the stage now.
9:16 EST – Whoa! He's got dancers too? Hahaha.  The Dottie Rambo tribute singers are back here in the press room now.
9:19 EST – No sound again here, but they're announcing Song Of The Year! … And the Dove Award goes to….BRANDON HEATH for "Give Me Your Eyes!" Man, Heath is cleaning up!

9:27 EST – New Artist of the Year, folks!! And the winner is……….. Tenth Avenue North. Dang it!  …I called it though. 🙂 Sorry, 10th, but Remedy and Francesca…. yeah. Sorry! I guess it does say something that these guys were the top selling new artist of 2008, though, huh?
9:31 EST – Jars of Clay just announced Natalie Grant to perform. It opened with her sitting on a park bench. Now she's singing with Group 1 Crew dancing beside her. Manwell's slick!
9:33 EST – And now Brandon Heath's about to step back here, carrying his three Dove Awards won tonight, including Male Vocalist and Song of the Year!
9:35 EST – Commercial break. They're going to announce Short Form Video soon. Brandon's not back here just yet…
9:41 EST – Grits is one of the presenters right now. The category is Short Form Video! Go Remedy Drive and House of Heroes! But I fear the worst……… OH COME ON!!!! Casting Crowns for "Slow Fade"??? Shouldn't this award go to an artist for the video itself not for just the artist? Why even bother nominating artists based on their videos then? But, alas, that is probably another blog topic altogether…
9:45 EST – Aww… Amy just complimented Brandon Heath on his song for "Give Me Your Eyes." He was greatly encouraged by it. Heath just insisted he wished he thanked Dan Muckala. his producer. for working with him and helping him. … MercyMe is peforming on stage right now… and I'm still upset about the Short Form Video debacle. It shouldn't be a popularity contest, folks… but it is. That House of Heroes video is fantastic.
9:50 EST – Commercial Break. Brandon's still back here. Thanks for all the feedback comments, folks!
9:52 EST – And Natalie Grant is now back here — the Female Vocalist of the Year
9:54 EST – Comedian Sinbad's on the show now… announcing Radio Show of the Year I believe. Natalie's still back here so we have no sound. RE: Blog Comment: Darren, we didn't have audio for GRITS' comment. What did they say??
9:57 EST – Smitty's up now talking… announcing Steven Curtis Chapman's performance of "Cinderella"…
9:59 EST – Miss California is now in here. Fox News Radio is asking her about the controversy about…. what happened this week. I don't want to get into it here, but we agree wholeheartedly with her and are proud of her.
10:00 EST – This girl's got integrity. God bless her!!
10:02 EST – SCC's getting a much deserved standing ovation. Wish we were there. We decided earlier he's getting one from us when he comes back here 🙂 Amy asked Miss California about music she grew up listening to and she cited RSJ, MercyMe, Chris Tomlin and many others as her favorites. Sounds like a healthy musical diet for the soul.
10:05 EST – Commercial break. Tenth Avenue North's back here now.
10:08 EST – Now Kirk Franklin and one of the Baldwins (not Stephen or Alec, ha) are presenting now. No sound as Tenth Ave is still here. Artist of the Year is up now…
10:10 EST – Artist of the Year is STEVEN CURTIS CHAPMAN!!! Thank God! We love you, Steven!!!
10:12 EST – Steven's giving a great speech. Jars of Clay is coming back here now….
10:14 EST – RE: Blog Comment: It IS a happy ending!
10:16 EST – Blind Boys of Alabama and Mac Powell are peforming on stage.
10:21 EST – Show is officially over. Press will continue back here for awhile. Jars is still here talking about Blood:Water Mission
10:29 EST – Comedian Sinbad and his daughter Paige, who's in the group Press Play, are back here with us now. The monitor is off (went black) now for the ceremony.
10:34 EST – RE: Blog Comment: My pleasure, John H! And I'm really, really glad SCC won too. Just the reception he got and his speech was well, well worth it! He's a hero of the faith for a lot of us.
10:36 EST – Newly signed to Reunion Records, Phil Stacey is now back here. He presented tonight. His new album releases August 25, 2009. It's titled Into The Light
10:42 EST – The legendary Steven Curtis Chapman is back here. Humbly talking about the awards. He's very thankful.
10:55 EST – Whew. Chapmans just left. Great moment back here with them in the press room! (Got some great pics too)
11:05 EST – And that's a wrap! Thanks for all who followed along with us! See you next year at the 41st Annual GMA Dove Awards! We love you guys! God bless!