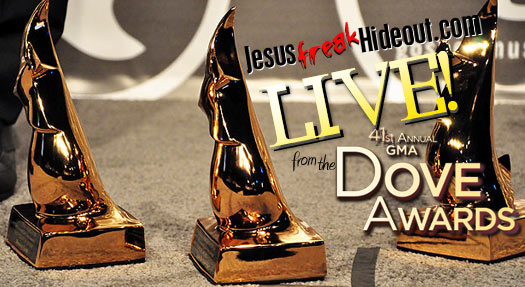 Hey all! JFH's own John DiBiase blogged live from the 41st Annual GMA Dove Awards press room (on April 21, 2010). The transcript below counts down backwards the events of the night as we blogged moment by moment. So if you want to read it in chronological order, please start at the bottom of the page.
———————————————————————————————————
10:58PM CST — That's it! It's all over! Thanks for all your comments and for following along with us! I'll be posting Dove press room photos soon! I'm out for the night. Love you all! — John
10:53PM CST — Casting Crowns was just back here and now Natalie Grant is up at the mic… admitting she fell on her face back stage (why she's telling us, I don't know 🙂 ). /// Thanks all for the kind words and reading!
10:36PM CST — Franny Battistelli is back here talking about her singles success. … And she's hiding her pregnancy very well! 🙂
10:33PM CST — You're welcome, Maria! 🙂  /// The grand finale just ended. The press room will keep going for a bit, but the show is over! I'll keep blogging as long as we have artists coming in.
10:32PM CST — Replying to you Mike, it's all good bro. 🙂 Glad you agreed with the other winner high points 🙂
10:30PM CST — To answer Catherine's blog comment… agreed!
10:27PM CST — The grand finale performance is on stage now: Matt Maher, Michael W. Smith, Amy Grant, Wynonna, Francesca, Natalie Grant, Melinda Doolittle, and a lot, lot more…
10:26PM CST — David Crowder is back here now. Focusing on the evening's highlights, I'm so glad they won for "Church Music."
10:23PM CST — Oh, right. It's the Doves…. Casting Crowns is Artist of the Year. And that's how we end the night?
10:22PM CST — Artist of the Year time! Go Jars or Skillet or Toby!
10:06PM CST — MercyMe is up to perform "All of Creation" now with David Crowder to do a medley with "How He Loves"
10:04PM CST — Man, we're still reeling about NEEDTOBREATHE winning Group of the Year… amazing. So awesome. Great, great band!
9:57PM CST — Group of the Year next… Go JARS! or NEEDTOBREATHE or Skillet! Dude!!! NEEDTOBREATHE GOT IT!!!!!
9:54PM CST — Ricky Skaggs is performing now. Still waiting for more awards!
9:34PM CST — And to answer your comment, Mike — Agreed!
9:32PM CST — To answer your blog comment, Allyson – I agree!!
9:30PM CST— The lovely Amy Grant is back here talking to us while Casting Crowns is setting up on stage getting ready to perform.
9:24PM CST — And for some reason, Sidewalk Prophets gets it?! Weird. Very weird.
9:22PM CST — And now Natalie will announce New Artist of the Year. I'll be honest. I'm not super excited about anyone on the list (sorry!). I'm guessing Kari will get it though.
9:17PM CST — TobyMac and the Diverse City band are now performing "Funky Jesus Music" and ROCKIN the stage!
9:09PM CST — …And all of them joined the Booth Brothers for a finale.
9:04PM CST — It's a southern gospel quartet tribute of performances… The Blackwood Brothers, The Perrys, and The Crabb Family
9:01PM CST — Performer Donald Lawrence is now back here talking to us about his songs. Amy's acoustic performance was a nice little addition to the live performances.
8:56PM CST — Natalie and Bart are introducing Amy Grant who is performing her new song "Better Than a Hallelujah."
8:52PM CST — Bebe and CeCe are now back here already talking with us. It's cool to see them back together again 🙂
8:43PM CST — Natalie is gushingly announcing BeBe and CeCe Winans who are performing next. 🙂  (Natalie's so cute!)
8:31PM CST — Bart just blew an intro and it was priceless! (he followed it with "Christmas Time is Here"). RED is now performing "The Fight Inside" with Brian "Head" Welch and producer Bernie Herms.
8:22PM CST — Franny is now performing "Beautiful, Beautiful" (btw – she announced she's expecting a child this October!) and Tenth Ave North, Jason Ingram, and Philip LaRue are her in the press room talking to us.
8:13PM CST — Female Vocalist of the Year is up now………… Francesca Battistelli just won!! Congrats Franny! You deserve it for those pipes!
8:06PM CST — The working title for Brandon Heath's new record is "Leaving Eden." One of the new song titles is "Your Love," which he wrote with Jason Ingram. Jason Crabb just came back here after Brandon left…
8:03PM CST — Brandon Heath is back here now talking to us, and how he's hard at work on a new album. Meanwhile, Tenth Avenue North is performing at the Doves show (I think it's "By Your Side").
7:57PM CST — And Song of the Year is …….. what?! "By Your Side" by Tenth Ave. North?! Kind of an old one to win… but congrats to the guys anyway.
7:56PM CST — Song of the Year nominees are being announced now…
7:54PM CST — To the recent blog comments — Davy – thanks for the www.gmclife.com stream clarification. 🙂 And Micah — I honestly would love to see Skillet get it too, but it's kind of unlikely. But I'm pretty much hoping for anyone but CC 🙂  (Go JARS too! 😉 )
7:52PM CST — Natalie Grant just introduced (and re-did it) Donald Lawrence and Jason Crabb who are honoring Andrae Crouch, singing "To God Be The Glory"!
7:41PM CST — Jars of Clay is performing "Two Hands" with Brandon Heath!
7:38PM CST — To answer another Blog Comment — Arielle, I know it will air on TV Sunday, but am not sure about it being online or not. I'm sorry! 🙁 /// Back to the Doves… PCD is chatting back here, reflecting on their song "Revelation Song" and reflecting on their 19-year career!
7:34PM CST — To answer a Blog Comment — Keren, Jordin is a Christian and actually wrote the song "Human" for Natalie to sing. Kinda cool! /// Back to the Doves… Brandon gave a great thank-you speech. His father is actually in the hospital tonight! 🙁  Please remember him in your prayers.
7:32PM CST — PCD and Jobe got a standing ovation. Millard is now announcing Male Vocalist of the Year. I'd like to see Bebo Norman get it. 🙂 The Dove Award goes to….. Brandon Heath for the second year in a row!
7:28PM CST — They're performing now. Jordin Sparks just got back here. She's talking about her upcoming first headlining tour.
7:25PM CST — Aaaand forget the performance… They're making Natalie and Bart redo their intro… weird.
7:20PM CST — Natalie and Bart Millard of MercyMe are tonight's hosts. They're now chatting it up before launching the festivities. They just said there's more of a focus on performers this year because of the artists' common message. Kari Jobe and Phillips Craig & Dean are opening up with "Revelation Song"
7:12PM CST — Natalie Grant and Jordin Sparks are performing a song right now ("Human?")
7:06PM CST — They're taping clap and laugh tracks to be on the show?!?! We're seeing footage of the whole audience of artists going completely nuts! haha They keep showing random artists… Skillet's looking pretty snazzy! 😉
7:03PM CST — The adorable Melinda Doolittle is back here. So cute to hear her talk! She announced a new book coming out real soon. Meanwhile, there's the opening prayer for the main event of the Dove Awards ceremony!
6:37PM CST — Jaci and Nic were just back here briefly. Anyway, back to my awards thoughts…. Would have loved to have seen the Third Day live video get an award. Well deserved to see Crowder win with "Church Music." and pretty cool to see Switchfoot get one for their single "Mess Of Me." I'm anxious to see where the big awards will go… would love to see Jars of Clay score some more of the biggie awards. Maybe Skillet? Maybe Toby? Guess we'll see…
6:27PM CST — Pre-show is over! Break time before the last few awards during the main Dove Awards show. Looking back on the pre-show… I'm quite happy to see Jars of Clay score Packaging and Pop/Contemporary Album with "Long Fall Back To Earth." JFH readers know we dug the record quite a bit. So we can't be happier! Also, NEEDTOBREATHE grabbed two Doves for their new album "The Outsiders." That's stinkin' awesome. Now we're getting ready for more artists to come back here and talk to us…
6:22PM CST — Now, lastly (for the preshow) is Songwriter of the Year… Jennie Lee Riddle!
6:19PM CST — Jaci and Nic just introduced Point of Grace who will announce the last two Dove Awards for the pre-show. Producer of the Year is up next. I'm really surpised this isn't in the main show! Producer of the Year is… Jason Ingram & Rusty Varenkamp!
6:17PM CST — Long Form Video of the Year is now being announced. Would be cool to see Third Day get this! …. dangit. Congrats to the Oak Ridge Boys who take home the Dove instead!
6:15PM CST — Short Form Video of the Year is on stage now (while the adorable Kari Jobe is back here) — Francesca Battistelli's "Free To Be Me" wins Short Form Video!
6:07PM CST — Rock/Contemporary Song of the Year is also up now…. The Dove goes to… NEEDTOBREATHE's "Lay 'Em Down"! Yeah baby! Great pick!
6:05PM CST — Pop/Contemporary Song of the Year is up now… Go Toby!! … The Dove Award goes to TobyMac's "City On Our Knees!" Congrats brother!
6:02PM CST — Country Recorded Song of the Year goes to "Somebody Like Me" by Jason Crabb
6:00PM CST — Bebo and the boys of Selah are presenting now. Contemporary Gospel Record Song of the Year is "The Power of One" by Israel Houghton
5:57PM CST — Sorry for the delay! We were listening to Jars of Clay talk to us back here. Mike Farris just won something (ha, sorry, we missed what!). Country Album of the Year is up now — rock band Abandon is presenting — "The Reason" by Diamond Rio!
5:44PM CST — Now they're singing the song in the style of Praise & Worship. The Worship Song of the Year is "Revelation Song"!
5:41PM CST — The Sisters are now singing "Blessed Be The Ties That Bind" before they announce the Bluegrass Song of the Year nominees. The winner is… "When We Fly"
5:39PM CST — Sherri Easter is giving a tearful and appreciative thank-you to her writing collaborators for the album. It's a sweet moment. Apparently the song was inspired by the struggling with – and victory over – cancer.
5:35PM CST — Sisters are on stage now… who want to sing the next list on nominees? That's different! Southern Gospel Song of the Year nominees are up. The Dove Award goes toooo… "Born To Climb" by Jeff and Sherri Easter
5:31PM CST — Radio Station of the Year just went to Joy FM in Winston Salem, NC. RED is back here talking to us.
5:27PM CST — Nominees for Best Children Music Album of the Year… And the winner is: VeggieTales' "Here I Am To Worship"! Haha awesome!
5:25PM CST — Karen just asked Jaci for help for the Spanish Album of the Year names. Haha. Nice. "La Conta" wins by Kari Jobe
5:23PM CST — J.R, Karen Peck, and Laura Story are up as presenters to introduce Contemporary Gospel Album of the Year. The Dove Award goes to… "Love Unstoppable" by Fred Hammond
5:17PM CST — Rock/Contemporary Album of the Year —- THE OUTSIDERS by NEEDTOBREATHE!! Omigoodness! Congrats guys! KJ just came back here. And RED just won Rock Album of the Year for "Innocence & Instinct" (one of the guys shook the award to see if the bottom fell off. haha)
5:15PM CST — The bottom of Crowder's award just popped right off while he was doing his acceptance speech!! Talk about cutbacks! Daaaang. 🙂 And the winner of Christmas Album of the Year is Big Daddy Weave's "Christ Has Come"
5:14PM CST — MIKESCHAIR is now announcing the Praise & Worship Album. The Dove Award goes to… David Crowder's "Church Music!" There is JUSTICE in the music world! 5:11PM CST — Jaci and Nic just introduced MIKESCHAIR who are introducing Rap/Hip Hop Album of the Year… The Dove Award goes to: KJ-52 with "Five-Two Television!" Congrats Jonah!
5:09PM CST — Phillips Craig & Dean just won Inspirational Song of the Year for "Revelation Song" (I'm still stoked Jars won Pop album!)
5:04PM CST — Group 1 Crew is coming back here as well. Byron Chambers is with Manuel. Jarsof Clay's "Long Fall Back to Earth" just won Pop Album of the Year! SO happy about this! They deserve it. 🙂
5:01PM CST — On stage, they're honoring Eva Mae LeFevre, who recently passed away. They're announcing the nominees for Southern Gospel Album of the Year. The Dove goes to… The Gaither Vocal Band with "Reunited." A shaggy-haired Michael English came up to accept it. Blue Grass Album of the Year is up next as well. The Dove Award goes to… The Isaacs, "Naturally."
5:00PM CST — Bebo is still back here. He's talking about the song he won for and told us he's working on a brand new record!
4:56PM CST — Bebo Norman is about to come back here in the press room to speak to us. This was his second Dove Award of all time.
4:54PM CST — And now up to perform is Karen Peck with "Why Can't All God's Children Get Along".
4:52PM CST — Urban Recorded Song of the Year is up now. Jonny and Crystal are still announcing winners. The Dove Award goes to…. "Close To You" by Bebe and CeCe Winans AND Israel Houghton's "Just Wanna Say" … Two Winners?!
4:50PM CST — Inspirational Song of the Year goes to… "The Only Hope" by Bebo Norman! Congrats Bebo!
4:48PM CST — Rock Recorded Song of the Year is up now… The Dove goes tooooo… (Skillet or Switchfoot would be sweet!) …. The winner is "Mess of Me" by SWITCHFOOT! Nice!
4:46PM CST — Jaci is announcing our next presenters – Jonny Diaz and Crystal Aikin to announce Rap/Hip Hop Song of the Year. The Dove Award goes to…. "Movin" by Group 1 Crew! Awesome, guys! 🙂
4:44PM CST — "Musical of the Year" goes to… "A Baby Changes Everything."
4:43PM CST — Hawk is now Youth/Children's Musical of the Year. The winner is…. "Christmas Hang Ups." The Hawk guys brought their mascot "Murphy" on stage with the too. Pretty hilarious.

4:39PM CST — Hawk Nelson is now up to introduce Instrumental Project of the Year. The winner is… "Joy Comes In The Morning"
4:37PM CST — Nic and Jaci are announcing Voices of Glory as the evening's first performance of the night, singing "God Bless America"…
4:34PM CST— Travis Cottrell has won the Choral Project award for "Jesus Saves Live". A whopping 36 awards will be given out in this preshow. And the Packaging of the Year
is up now… Go Jars! …. The Dove goes to………… Jars of Clay's "Long Fall Back To Earth" Limited Edition project! Yeah, boys!
4:33PM CST — And the pre-show is off to a cutesy start as Jaci Velasquez and co-host (and husband) Nic Gonzalez of Salvador are kicking things off, introducing presenters Sidewalk Prophets…
4:20PM CST — Hey friends! Thanks to all who have answered our Tweet with who they hope is going to win their respective awards! We're still waiting for things to get started back here. Keep telling us who you hope wins!
3:33PM CST — Hey all! Just settling into the Doves press room. The room is a flurry of activity at the minute. Looks like the pre-show starts around 4PM CST and that's where they will give away the majority of the evening's awards. So we'll keep you in the loop!