1998 was probably my first real experience with witnessing the shuffling around of lead singers in a favorite band of mine. It was the time when, mysteriously, Newsboys front man John James had quietly stepped down as the lead vocalist for the Newsboys and drummer/vocalist/co-founder Peter Furler literally stepped up to the microphone. It was something that the band decided to highlight as well, even naming their first all-Peter-fronted album Step Up To The Microphone. It was a good album, too, but it was only a so-so successor to the far superior 1996 album Take Me To Your Leader.
While it was a major disappointment to be losing the eccentric presence of John James from the band's live shows, Furler was already a founding member and a frequent lead singer (You can see him singing "I Cannot Get You Out of My System" on their video from their 1992 album Not Ashamed). It wasn't as much of a shock to the proverbial system, as, say, replacing the road-weary Furler with DC Talk's Michael Tait in 2009, but fans still had to get used to percussionist Duncan Phillips moving over to drums and the absence of James' unmistakable stage presence.
While I can think of several vocalist changes in recent years, from Audio Adrenaline to Flyleaf, Further Seems Forever to Underoath, and beyond, the most recent vocalist retirement brings to mind the exact same situation that Newsboys fans faced in 1998:
Family Force 5.
On Monday of this week, the band made the shocking announcement that original vocalist, Solomon "Soul Glow Activatur" Olds, was not only stepping down, but he had already played what was his final show as lead vocalist just two days prior without a single formal announcement. During that show, the band primed their new vocalist and drummer, much to the surprise of fans who, like me, just thought it was something special for their live show (until they told us after the show that night).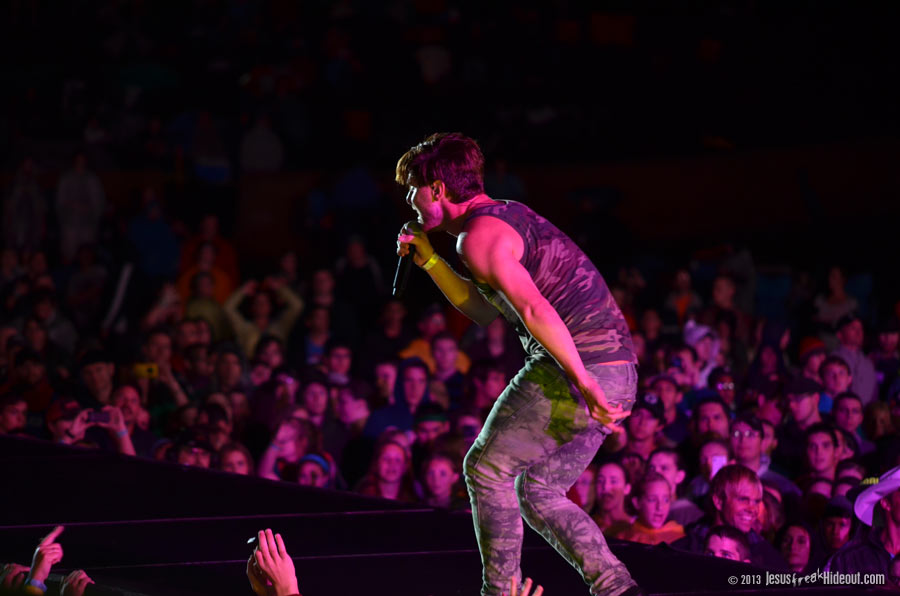 Photo of Jacob "Crouton" Olds taking over the mic from Solomon's final live performance on Saturday at Uprise Fest. Jacob sang a new song called "Dance Like Nobody's Watching"
Photos by Jesusfreakhideout.com's John DiBiase
So, as with Newsboys, original drummer, co-founder, and occasional lead singer Jacob "Crouton" Olds has been announced as the band's new lead vocalist. Jacob has a much more unassuming presence than the wild persona of "Soul Glow Activatur," but from his performance of a brand new song on Saturday, there was evidence that it would be completely different, but nothing short of still being very much "Family Force 5."
Still, the whole change is a shock to fans. And I, admittedly, have been a fan of Family Force 5 since seeing them perform at GMA Week in Nashville in 2005 before their debut Business Up Front, Party In The Back would release almost a full year later. They have one of the most energetic and fun live shows around, but one can easily argue that with success, many changes have happened in their music and live shows that haven't always sat well with fans.
So where do they go from here?
A clean slate is obviously on the table, but it's also clear that the band doesn't want to alienate their fans. Just from the snippet of new song "Glow In The Dark" that can be heard on Solomon's exit video, or the catchy and very danceable "Dance Like Nobody's Watching" that fans will be able to hear live from now on, Family Force 5 is retaining the spirit of what it is about them that won over fans eight to nine years ago.
Fan response has already been mixed, but I don't think it'd be fair to count the guys out just yet. While I will miss Solomon's infectious and outrageous stage presence, I'm still looking forward to supporting these guys and seeing them live again very soon.
— John DiBiase
Jesusfreakhideout.com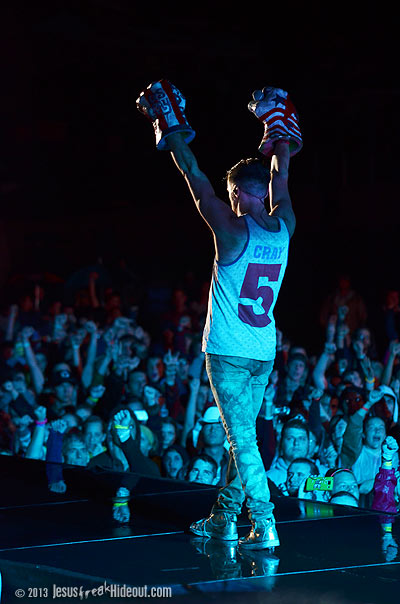 Photo from Solomon's final live performance on Saturday at Uprise Fest.
Photo by Jesusfreakhideout.com's John DiBiase