Tal & Acacia, for whatever reason, just never really took off when they hit the scene.  Despite the fact that their debut album on Essential Records, Wake Me, was full of catchy indie pop goodness with captivating voices (and was even supported with a tour alongside Superchick), Talitha and Acacia Wulfing's first foray as signed artists just didn't sell well and we never got any word of a second album.  But with the news of a new album recorded independently and a Kickstarter to make it happen in the works (www.kickstarter.com/projects/1766081804/us-you-new-record), the sister-sister duo is indeed back, and listening to Wake Me once again renews my enthusiasm for this group.  While I think I enjoy this album in a slightly different way than when I first heard it in 2009 (I still have minor gripes about the somewhat hokey "Garbage In"), the charming and soothing nature of this debut is unmistakable three years later.  With their debut to keep me hopeful, I pray that Black & White will be a reality; Tal & Acacia didn't make our Highlighting 2012 Second-Half list for nothing… this duo is one of the best kept secrets of this industry.
– Roger Gelwicks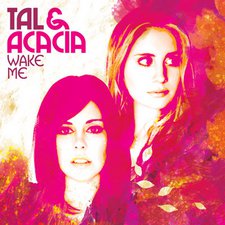 Tal & Acacia
Wake Me (2009)
Click here for our review of the album.
Our synopsis: "An underappreciated indie pop album, this 2009 gem is ripe with fun and contemplative melodies, always ready to make your day a little brighter." (Recommended by JFH's Roger Gelwicks)
Perfect For: Relaxation, Uplifting, Encouragement
Song Highlights: "Clearview," "Yahweh," "Wake Me (Noah's Song)," "Drifting Away," "Warrior Child"
So, what are your thoughts on and experiences with the album Wake Me? Do you recommend it? If so, why?