Magnified Plaid signed to Tooth and Nail Records as high school students in the Bremerton area of Washington State.  While the original trio with Andy Husted didn't make it past the first album, Mike, Tom, and Yuri have had a pretty successful career.  And while the band has now been together for 24 years, they released their hallmark third record 20 years ago.  Life in General put Tooth and Nail Records on the map in a big way and gave MxPx some serious notoriety, complete with MTV airplay — especially with the hysterical video for "Chick Magnet."  Personally, dcTalk's Jesus Freak opened me up to a whole new world of music.  This new world paved the way for MxPx and similar bands to become the favorites for my formative years right on through to today.  MxPx singlehandedly sparked an undying love for punk rock in me that still burns bright.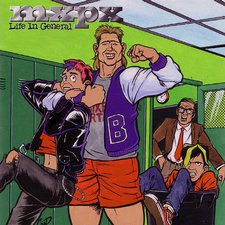 These days, MxPx is known as a pop-punk band, and they certainly added a lot of pop elements into their music, but back in 1996, MxPx was way more influenced by skate punk.  The guitar, bass, and drums were set to a blazing pace for most songs and it was in an era just before pop-punk started to dominate the airwaves.  Tooth and Nail had struck gold.  Life in General has so many standards that are beloved by fans and still played at MxPx shows regularly.  "Middlename," "Do Your Feet Hurt," "The Wonder Years," Your Problem My Emergency," "Doing Time," and Southbound" really highlight the best of what the album has to offer.  The album's title is also quite fitting as the lyrics to these songs, as well as the others, are just about life — generally speaking.  Themes range from love, having fun, minor problems we all face (especially when at that age) in life, to some slightly deeper issues.
One of the best things about the album is that is still holds up after 20 years.  Those who loved that type of punk rock sound in the 90s will still dig it today, but it also plays nicely to new punk listeners wanting to discover some "older" punk music.  While not every person likes the direction MxPx headed after Life in General and Slowly Going the Way of the Buffalo, most still look back with fondness, or at the very least with appreciation, to the earlier days of MxPx.
The band's last full-length album, Plans Within Plans, was released 4 years ago.  While the album had some classic sounding tunes and plenty of enjoyable moments, it couldn't really compare with Life in General.  Even though there hasn't been a new album in a while, MxPx did surprise fans on September 18th with a completely re-recorded version of Life in General.  There aren't a lot differences in the song's recordings overall, but there are some subtle nuances here and there that are different.  As a whole, the biggest difference in the 1996 version and the 2016 version is the tone of the instruments.  The distortion on Tom's guitar is meatier, Yuri's drums are bigger sounding, and Mike's bass seems to stand out in the mix a little more (but not in bad way).  The re-recording is an interesting listen.  It's the same Life in General, but any fan of the band would pick the songs out as sounding different immediately.  The purest in me is quite happy that the songs stayed exactly the same, but the album is set to modern recording techniques and the band is using their current effects (such as distortions).  It's different enough to be noticed and appreciated, but it's the same album.
It's hard to believe it's already been 20 years since Life in General was released, but Mike and the guys came up with a pretty cool way to celebrate.  As of now, this download was only available for one day — September 18th.  If you missed out, see if one of your friends was able to snag the download.  Hopefully the band will release a 20th Anniversary vinyl (with a digital download), or something similar, with this recording.  It would be a shame to put all that work into this project with only some of the fans getting a chance to listen.  The fact that it was a free grab for one day only may just be leading to that type of scenario.  Fingers crossed!  As a long-time fan, though, celebrating 20 years of Life in General with this re-recording has been fun.  Something tells me that I'll be rocking this record for another 20 years to come.
— Michael Weaver, JFH Staff Writer