I honestly wasn't sure what to expect for our average top ten this year. A lot of the JFH staff gravitated toward different albums all year, while others didn't find much to like about the same album. But every album on that list makes sense as far as staff approval. Most of these albums were heavily recommended by and to one another, and it's a solid list, even if I don't personally love all of the albums represented.
My list was up in the air until almost the last minute. But I finally settled on my top ten favorite Christian albums of the year, some of which weren't shared by anyone else. But, for what it's worth, and if you're interested, here's my top ten and why.
Levi the Poet – Cataracts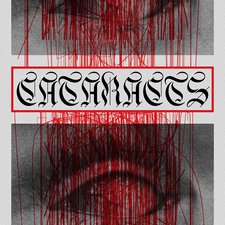 I've followed Levi for about seven years now, and have never really been let down by any of his releases; singles, EPs, albums, with or without music, I've dug it all. But Cataracts is on another level. Teaming up once again with Alex Sugg (Glowhouse), Levi delivered a beautiful, raw, painful, doubtful, reverent work of art. An album that explores the darkest parts of man's insecurity, and it's both scary and comforting how relatable it is. The central theme – keep forgiving – is an important one, and Levi's insistence on it throughout all the doubt, fear, anxiety, and pain is a beautiful reminder that God is still working in our lives, working all things together for good for those who love Him and are called according to His purpose. This was the bar for the rest of 2018.
The Bell Jar – I Infest, Therefore I Am
It's probably not any kind of a secret whatsoever that I love Showbread. I was sad when they released their final album in 2016, but it made sense. But I'm really happy with the first reincarnation of the band in The Bell Jar. Their debut is weird and somehow rocks hard without a single six-string guitar to be found. It's tracks like "Suck Abyss, Succubus!" and "The Fall of Dubai" that really suck you in and make you wanna kick a hole through the wall, then climb through and belt out to "Suddenly, Seymour" while your friends decide they don't want to invite you over anymore. Yeah, it's that kind of album.
mewithoutYou – [untitled]
So, this one is a bit tricky. Personally, I haven't really connected with a mewithoutYou album since 2009's It's All Crazy! It's All False! It's All A Dream! It's Alright. That includes their untitled work from this year. However, it's a very clearly well-written and well-executed album that I feel captures the spirit of the band. There's a rumor out there that this will be their final album; I don't remember where I heard that and I don't know if it's true. But if it is, it may be the best way to make their grand exit. The album even almost seems to mirror their discography, starting with intense screaming and guitars, moving into slower, melodic tracks, and finishing one of their slowest, quietest songs to date, a song that ends with the words "Someday I'll find You." What a beautiful piece.
Andy Mineo – I: The Arrow EP
I spent a lot of 2018 taking in new music. Some of that was only new in the sense that I hadn't actually listened to it before (a lot of old school stuff), and some of it was giving some time to artists I hadn't previously spent time with or maybe didn't even really care for. Andy Mineo falls into the last category. Having not been much of a fan of his previous work, I was surprised when I listened to The Arrow and loved it. Thematically, it's quite similar to Levi the Poet's album, exploring themes of doubt and anxiety, much of which had stemmed from people in the Church not being very Christlike. Though I found myself questioning some of the theological content (you can read the review I wrote for more on that), there wasn't much to disagree with, and I actually ended up relating to it more than anything. In a time in our culture where mental issues are a huge focus, it's easy to forget that Christ can heal that, too. So it's good that this album is ultimately redemptive in that regard, pointing the listener to Jesus and ending on a hopeful note.
Oh yeah, and the music is dope, too. Listen to "I Ain't Done" and "…Lost" and I'm sure you'll agree.
John Van Deusen – (I Am) Origami, Pt. 2: Every Power Wide Awake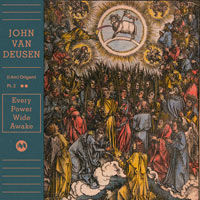 This one came out of nowhere. I had never even heard of Van Deusen until late this past summer when I was putting together our latest free music sampler. I polled some of the staff for more ideas for artists to contact, and fellow writer Josh Balogh brought Van Deusen to my attention. And then I was hooked. Every Power Wide Awake is kind of hard to describe in such a short space, but it sounds great from start to finish, with a cacophony of sounds ranging from rock to indie to acoustic; think Simon & Garfunkel mixed with mewithoutYou mixed with John Mark McMillan. If that doesn't help, check out songs like "All Shall Be Well," "Calling All Cowards," and "How Long Will You Wander, My Wayward Daughter?"
Must Build Jacuzzi – Last Place
Okay, I fully expected to be the only person with this album on my list, and I get it, but it's still a bit disappointing. MBJ is the resident skacore band signed to Indie Vision Music. After their last release, the Chugz & Nugz EP, I had little to no expectations for them, but Last Place really caught me by surprise. This is a solid album filled with fun, humor, faith, and lots of growing up. It's also a mixed bag of genres, with ska at the center and punk, hard rock, and hardcore around the edges. "Smoke Rings" is a great example of this genre-transcending style. I revisited this album multiple times throughout the year and enjoyed it each and every time. It's not something for everyone, but I highly recommend checking this out if you've got 40 minutes or so to spare.
Peabod – Healthy Snacks
Another album that took me by surprise. We got this album from Centricity after it came out, but with not even a whisper of his name before that. I took a chance on Peabod and was very pleasantly surprised. A singer/songwriter at heart, Peabod's first hip hop endeavor is full of life, joy, and good times. He's even won over some of my friends and family that don't usually listen to hip hop, which is great news for me. It's very accessible and poppy, but is great for repeat listens and for bringing you out of a funk. Even the album's sad song, "Ok," is hopeful at its core. Peabod has since dropped two singles, both of which have gotten multiple listens from me, and whatever he does in the future will definitely be on my radar.
NEEDTOBREATHE – Acoustic Live, Vol. 1
I hesitated to put this on my list based on the fact that it's not a studio album and contains no new material from the band (save for a cover song or two). In the end, I decided to run with it, because it truly is an album I enjoyed a lot this year. NEEDTOBREATHE's song transition into an acoustic setting perfectly, the band sounds amazing live, and the recording and production is clear and perfect. One of the best parts of a live album is hearing the band talk with the audience and engage in a little banter between songs, and it was nice to hear some of that here. Here's hoping that more of this is coming down the pipeline (and that their next studio album revisits the southern rock sound a little more and the pop a little less).
Jackie Hill Perry – Crescendo
My anticipation for Crescendo was through the roof. It had been four years since Perry's last album and I was counting down the days for the follow up. After a number of listens, I had the same experience I had with mewithoutYou's album; I recognized how excellent it is without connecting to it personally. So it's actually a little difficult to write about. But there is a lot to like about it. Crescendo presents us with a Jackie Hill Perry who seems to be going through a rough season of life. A lot of the songs sound weary and maybe even slightly lamenting on occasion. However, the despair is combatted with hymns scattered throughout the tracklist. There's also never a single moment where the Lordship of Jesus Christ is forgotten. My personal favorite track is "Hymn," which features a slew of legends of the CHH world: The Ambassador, shai linne, da TRUTH, and Braille. This is a terrific follow up to The Art of Joy and is more than worth your time if you enjoy hip hop.
The Gray Havens – She Waits
Every time Dave and Licia Redford release new music, it takes some time before I really appreciate it. Fire and Stone took me a good long while, and it was only near the end of 2015 that I realized I had spent so much time with it and enjoyed it all. She Waits hasn't hit me in quite the same way, but it's a terrific indie pop album that's filled to the brim with the hope of Jesus. The title track alone paints a beautiful picture of the bride of Christ patiently waiting for her bridegroom to return. I also really took to "Storehouse" and the somewhat out-of-character "High Enough." The album is also full of beautiful melodies and music that feels really good to the soul. Again, it's a bit of a grower, but it's well worth the time it takes to fall in love with it.
Honorable mentions: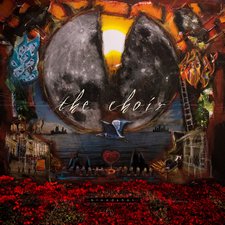 The Choir – Bloodshot
Dens – No Small Tempest EP
Ethan Luck – Let It Burn
Fit For A King – Dark Skies
Future of Forestry – Union
Josh White & Josh Garrels – Josh White & Josh Garrels EP
Matthew Thiessen and the Earthquakes – Wind-Up Bird
Off Road Minivan – Spiral Gaze EP
Sleeping Giant – I Am
Twenty One Pilots – Trench
— Scott Fryberger, JFH Staff Writer