Where to begin with an album that means so many things to me (and so many others)? An album that is tied to so many great memories?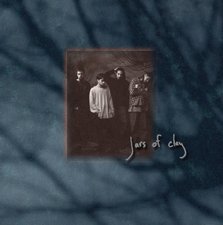 I would submit to you that this album is the perfect soundtrack for any activity, for any mood. Whether you're chilling, cleaning, studying, driving with the windows down, or worshipping. Now 20 years later, I still revisit this album multiple times a month and it's taken a large role in shaping who I am as a person and my musical tastes.
Jars of Clay met and formed at Greenville College in Greenville, Illinois in the early 1990's. Band members Charlie Lowell (keys) and Dan Haseltine (vocals) struck up a friendship over a shared love of the band Toad the Wet Sprocket. Although pursuing a career in music was never the goal, they quickly gained a following from music that they wrote together for a school class project. in 1994, they released a limited pressing of a demo titled "Frail" and decided to leave school to pursue a career in music.
Wikipedia has this to say about the album (and I concur):
"The album has been highly acclaimed, being one of few Christian albums of the mid-nineties to achieve platinum status. As the group's debut album, Jars of Clay introduced many internationally to the group and established the group due to their distinctive style."
This album also had the distinction of being one of very few to have great crossover impact on MTV and mainstream radio.
Personally, I first learned of Jars of Clay as my interest in Christian music began to bloom. I had just graduated middle school and was taking the coolest of all classes at youth group camp in the summer of 1995: watching and discussing christian music videos.
When I first saw and heard the strains of "Flood," I was hooked. I'd never heard anything like the pounding acoustic guitars that were as relentless as the rain they were singing about.  The violin breakdown in the bridge? As far as my young ears were concerned, it was perfection in a pop song. I had to find out more about these guys, and soon after camp (not soon enough!), on that fateful day of October 25th, I purchased their cassette tape and proceeded to wear it out.
The best part, as my best friend and I were to discover, is that "Flood"–although a terrific song and most people's introduction to the band–wasn't even the best the album had to offer. In my opinion, that easily goes to "Worlds Apart," but I digress.
As I greedily dug deeper into the track listing (I still remember the smell of the liner notes), I quickly became a fan of the opening song "Liquid." With its beginning combination of harmonious "yeah's" and chanting monks (if you've never heard it, it sounds weird but it works), along with the tight strums of the acoustic guitars and strong drum beat, I'd found my go-to song. It was the following year at another youth camp upon hearing it on a souped-up sound system that it further nailed this down as "my" song.
My next memory of this album is singing along with my best friend in high school as he strummed the familiar notes of "Love Song for a Savior" and "Worlds Apart" as we hung out on weekends. A few years later in college, another friend and roommate frequently played "Worlds Apart," further cementing it as an all-time favorite song. There are many great lyrics, but the following have been the most meaningful to me personally:
"It takes all I am to believe
In the mercy that covers me
Did you really have to die for me?
All I am for all you are
Because what I need and what I want are worlds apart"
I don't know about you, but that cuts to my heart every time!
"Love Song for a Savior," although simple lyrically, may just be better than a majority of today's modern worship songs because of its innocence and purity of delivery.
"It seems too easy to call you 'Savior'
not close enough to call you 'God'
So as I sit and think of words I can mention
To show my devotion.
…I want to fall in love with you"
I typically find the simplest of expressions when straight from the heart to be the ones that draw my hearts affections to my Savior. This one just does that for me.
Two other musical standout tracks and personal favorite musically are the harmonies of "Like a Child" and the swirling strings on "Boy on a String."
Closing track "Blind" seems to be both directed at Pilate and at us.
Pilate, who wanted to rely on logic, had finally washed his hands of responsibility for Christ's blood…
"Crucify, and deny,
pass the blame and burn the mission
Till dust remains
and wash your hands"
"You're logical
You can't find
Any reason to believe in love
You are blind"
And us the often wayward believer…
"So you fight
and retreat
And talk yourself out of believing
Any peace that you can't see"
"Blind" was a great way to end the album which brings me to my one (albeit small) quibble with the album, and that is the long run time of barely audible band practice and chatter between the end of "Blind" and a hidden gem of a song, "Four Seven." This song is basically a thesis statement for the band's name (which is taken from 2 Corinthians 4:7 and its mission as a band).
Aside from the annoyance of having to fast forward to get to the song, I felt like the song should have been given the full treatment, and placed earlier in the track listing. (A good fit could have been right after "Flood" and before "Worlds Apart.") But as I said, small quibbles. I think they remedied that small annoyance with the platinum re-issue of this album including "four seven" as an eleventh song.
Lastly, this album is one of very few from the 1990's that I believe still holds up lyrically as well as musically to this day. Others might say that the drum loops and acoustic guitar on this album haven't aged well, but I would politely and emphatically disagree. If you missed this one, or weren't yet born, you should definitely give it a spin!
What is Jars of Clay up to now:
Still making music and touring (albeit at a much smaller and more infrequent pace) with their most recent full length original album Inland released in 2013. They continue to pursue a pairing of their deep and poetic lyrics with any and all styles and genres of music, as they've explored americana, bluegrass, 80's, prog rock, acoustic, worship, and indie styled music since their debut. Jars of Clay is also one of the rare bands from the era who now 20 years later has kept the same lineup which I applaud. One hopes that there are many more years of their brand of insightful, smart pop which I believe is under appreciated but sorely needed.
— Josh Balogh