While many staff members are breaking down their top year-end album picks, I was far more impressed with many of 2017's individual songs as opposed to albums. (This is evidenced by the abnormally high amount of extended plays on my album list.) It is no secret that I was disappointed by the industry's releases this past year, but there are always some exceptional gems to be found, and I want to break down some of the best offerings you just might have missed…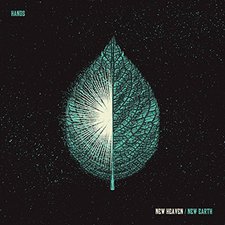 New Earth: It's always exciting to see an older act reunite under a new release, but this can easily be a letdown if not handled properly. Thankfully, 2017 saw the post-hardcore band Hands drop a two-track EP that went far above and beyond expectations. While both songs are fantastic, New Earth takes the cake for my favorite song released in the past several years. Its cold, dark, and somber lyrics perfectly mesh with a glimmer of hope, reflected by both the melody and instrumentation. Sometimes less is more, and Hands struck gold by implementing this understanding.
I Can't Sing it Loud Enough: "The thorns, the stripes, the cross, the spikes our hands prepared
/ so what is man that You would choose to stoop so low? / Exchange Your glory for our pitiful facade?" Lyrics as raw as this seldom make their way onto a record, but former Attalus frontman Seth Davey's entire album is full of such beautiful and deep considerations. The imperfections in the actual recording (balancing, vocals, etc.) make this music "real" in a way NF could only dream of.
We Live Best: It's been a while since we've heard from rapper John Reuben, but boy is it good to have him back. Sure, the cynic may have won out over the boy, but Reuben's musings are more potent than ever: "no satisfaction, suffocating joy / never made a idol that didn't disappoint / we live best close to death." It's hard to decipher the overall message of "Reubonic;" not many answers are given. In this day and age, however, his questions need to be asked, and that is the first step in reconciling an increasing schism between faith and reality.
Breathing Underwater: For brothers Aaron and Jesse Sprinkle, teaming up to form new indie rock band Blank Books was risky; not because there was a real chance it wouldn't be exceptional, but because of the sheer amount of expectation bound to come along. Easily the strongest song on the EP, Breathing Underwater perfectly merges rock elements from the '90s and present, sports poignant lyrics, and brings along a killer melody to boot.
Marina: Falling Up frontman Jessy Ribordy's side project, The Gloomcatcher, has been around since 2010. The surprise EP release of "Blade in the Belfry" was a welcome addition to this project, and while all of the songs are beautiful, creative, and unique, Marina holds a special place. Written in relation to Ribordy's family, it chronicles the struggles of relationships and brokenness, yet points to the importance of holding on throughout the turbulence of life.
Let You Down: In my review of NF's third LP, "Perception," I noted that "Let You Down" is the only song on the album which didn't actually let me down. It appears I'm not alone, as the song has continued to climb the charts at an unprecedented rate. It's catchy melody, strong lyrics, and forceful rap bring back the cohesive elements of NF's more quality releases.
Coming Back: Honestly, I just really like this song. It feels like it belongs in the credits of a Fast & Furious It's catchy, busy, and simply a good time. The lyrics are clearly representative of Manafest's faith ("This is my pain, this is my cry, this is my hope when I need a sign / 'cause I'm never too far, never too far to come back"), but are also easily accessible, with the melodies and background elements bringing it all together.
Gasoline: I'm not usually a fan of cover songs, but Falling Up's rendition of Brand New's Gasoline is, simply put, astounding. It's sparse and haunting; fitting for the band's very final song release after a 15+ year run. I'm just a little bit disappointed that this will be the last year that Falling Up makes it onto my list.
God's Not Done with You (Original Demo): Be sure to listen to the "original demo" version of this song, rather than the one that the label/studio ruined. Tauren Wells had a strong debut LP this year, but it was unfortunately over encumbered with contemporary elements. When Wells sits behind a piano, incredible things happen. It's a shame that producers often add so much bloat that it cheapens and diminishes what was once a thing of beauty. Such is the case for God's Not Done with You, a track with a powerful message, soaring harmonies, and lovely piano elements. I'm just thankful that the stripped-down demo version was also placed on the record.
Still Alive (Looking for a Reason): This track represents one of the times where Red went for something different, and actually achieved an amazing piece of art. The acoustic elements and vocal breakdown seal the deal, topping off this year's last spot in the top ten.
David Craft's top ten songs and albums of 2017
Top Ten Albums:
Wavorly – Movement One
Hands – New Heaven/New Earth
The Gloomcatcher – Blade in the Belfry
John Reuben – Reubonic
Seth Davey – Till You're All I See
Blank Books – EP 1
Manafest – Stones
MC Jin – Nobody's Listening
Aaron Sprinkle – Real Life
Nichole Nordeman – Every Mile Mattered
Top Ten Songs:
New Earth – Hands
I Can't Sing It Loud Enough – Seth Davey
We Live Best – John Reuben
Breathing Underwater – Blank Books
Marina – The Gloomcatcher
Let you Down – NF
Coming Back – Manafest
Gasoline – Falling Up
God's Not Done with You (Original Demo) – Tauren Wells
Still Alive (Looking for a Reason) – Red