The idea of an interactive digital Bible may cause a few people to scratch their heads and say, "But why?!" To be honest, the concept sounded a bit intriguing, but for the most  part, I couldn't visualize what the fuss could be about. An interactive Bible? Sure, I can see that possibly being cool, but what's wrong with our own personal paper Bible we can hold and carry around with us? Nothing, of course, but for those glued to a computer all day — whether portable or desktop — something like "Glo" may be exactly what they need.
"Glo: The Bible For The Digital World" is a three-disc DVD-based program that is installable for your PC (Glo for Mac is coming in 2010). Glo is unfortunately a bit of a resource hog, needing a whopping 18 gigabytes of your hard drive space and 1GB of RAM if you're using Window XP or 2GB for Vista or Windows 7. Granted, most new computers come with pretty big hard drives and a nice amound of RAM, so installing the Bible is hardly a waste of space, but it's something to keep in mind if you're already running low on hard drive space. It's also nice that Glo doesn't need to run off of a disc, so you don't need to lug the discs around or need to pop it in every time you need to run it. But why is Glo so big? The digital Bible boasts 2,382 High-Res photographs, 7,500 Encyclopedia articles, 463 Virtual tours, 689 Works of Art, and 3.5 hours of HD Video… that is, all in addition to the entire Bible accessible within a couple mouse clicks.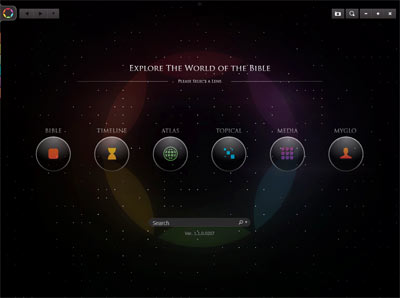 When you open the Glo program, a beautifully minimalistic black, starry menu pops up displaying the title "Explore The World Of The Bible." It instructs the user to select a lens for which to view the Biblical "world" and offers six different portals — "Bible," "Timeline," "Atlas," "Topical," "Media," and "MyGlo." It also features a search box right below that menu, so you can search the whole entire Glo library right away.
So let's take a look at each individual section…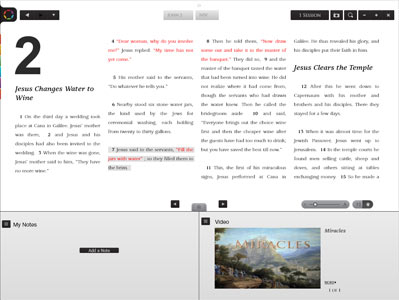 BIBLE
When I first opened up the program after installing it (which takes quite a bit of time), I immediately clicked on "Bible." When you do this, a screen displaying "Old Testament" on the left and "New Testament" on the right pops up and gives a breakdown of each book beneath the title. From this screen — and really any screen in Glo — there are colored tabs on your left which, once your mouse highlights them, expand to allow you to browse any of the six lenses. You can also access a journal where you can view any notes you make next to scripture references at any time. You will also be able to start what they call a new "session" so that you can jump around the program and save your searches or studies. This allows you to open multiple search windows – sort of like a web browser – and then save them upon exiting Glo, which is great if you are in the middle of researching something but need to close Glo or reboot your computer. But within the "Bible" section, you can simply choose a book, and with one click are brought to a break down of chapters, including an introduction. Once you click on a chapter, it brings you to the verses and you can view study notes, increase or decrease the text size, take a screen shot in an image or text form, or even select and copy text for use elsewhere. Right-clicking on a verse brings up a little control panel that allows you to send the scripture to a different lens, add a note, or just return to the passage. I had clicked on John chapter 2 and it suggested a video in the lower right hand corner when I selected verse 7. The videos are part of a series titled "In His Shoes." Author Troy Schmidt narrates his journey tracing the steps of Christ today. The music and presentation are a bit overly dramatic (and Schmidt tends to sound a lot like a news reporter in his delivery of the presentation), but the video still serves as an interesting added feature to give the Bible exploration another dimension.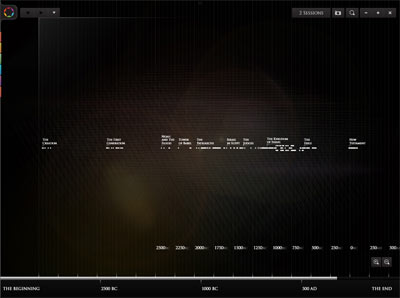 TIMELINE
Clicking on "Timeline," you're brought to a screen where it breaks down the Bible in chronological order from Creation to New Testament. Clicking on any point brings up further selections. For example, I clicked on "New Testament" and it brought up "The Life Of Jesus" and "The Early Church" as well as several subcategories. Clicking on the subcategory "The Church In Antioch" then expands a list of events like "Peter Released From Prison" or "Book Of James Is Written." Clicking on the latter brings up a separate list of Scripture references, Articles, and Photos. Other sections bring up Virtual Tour videos or famous Art as well. It's a pretty nice function for exploring the events of Scripture or trying to do research for teaching or personal study.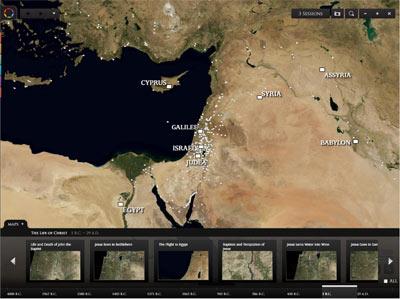 ATLAS
"Atlas" brings up a beautiful map that focuses on Egypt, Arabia, Babylon, Persia, etc. With the click of your mouse, you can drag the map around to look at other areas of the world. The map may be one of the bigger features for the program to load, so I found it taking longer than most other sections to navigate to. But it's no reason why. The map is a greatly detailed satellite-style view and you can zoom in and out at will. So when you click on a highlighted area like "Judea," a list of features pops up similar to those found on the Timeline. There are 171 results in Glo pertaining to Judea. It pulls up 43 Scripture references, 1 Article, 26 Photographs, 54 pieces of Artwork, 33 Virtual Tours, 8 Maps, and 6 Interactive Documentaries. It's a cool way to search the Bible by Biblical locations.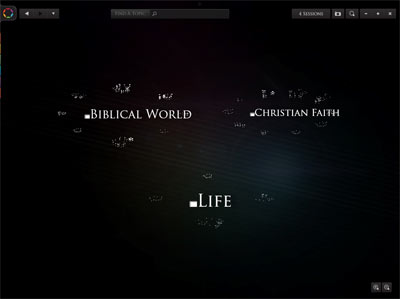 TOPICAL
Clicking on "Topical" displays a page of three different sections: "Biblical World," "Christian Faith," and "Life." Clicking on one of them, for example "Biblical World," zooms in to a set of submenus. "Biblical World" offers "Animals," "Biblical Life,"  "Peoples," "Writings," "Languages," "Plants," "Climate," and "Lands Of The Bible. "Christian Faith" offers "Spiritual Beings,""The Church," "The Bible," "Salvation," "Sin," "Man," "Holy Spirit," "Jesus Christ," "God," and "End Times," while "Life" displays "My Life," "911 Life in Crisis," "Life With God," "Life With Others." Clicking on "Jesus Christ" under "Christian Faith" brings up even more subcategories, and clicking on "Deity," for example, displays the search results section which displays 23 Scripture references and 2 Articles. This seems like a great way to prepare for a teaching or study, or if you have your own personal questions about something that you'd like to learn more about. The title "911 Life In Crisis" seemed like an intriguing title to me, so when I clicked on it, it was cool to find it lists such touchy subjects as Homosexuality, Abortion, Marital Affair, Divorce, etc. Topics like Divorce bring up Scripture references and even links to YouTube videos and online articles.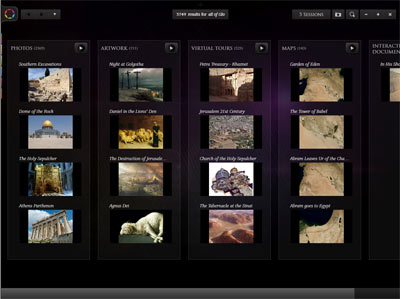 MEDIA
"Media" brings up the search results screen right away, displaying 3,749 media results. Here is where you can view over 2,300 photos, over 700 pieces of Artwork, 525 Virtual Tour videos, 143 maps, and the "In His Shoes" documentary. Out of curiousity, I clicked on "Church Of the Holy Sepulcher" under Virtual Tours and it brought up a cross-section diagram of the church with clickable sections that zoom into the diagram and allow you to click and see real-life photos of the church. Further clicking reveals photos inside that give you the opportunity to click on different views inside of that view, with text describing or explaining different features. It's a brilliant feature and a great way to bring some of these Biblical locations to life! Other tours, like "The Tabernacle at the Sinai" give a computer-rendered illustration of what it may have looked like, with the option to zoom in and even view Moses' personal tent. You can zoom in further and check out views of the Tabernacle, too – from the Bronze Laver to the Bronze Altar and even an inside view to peek at the Ark of the Covenant and the cherubims on top of it!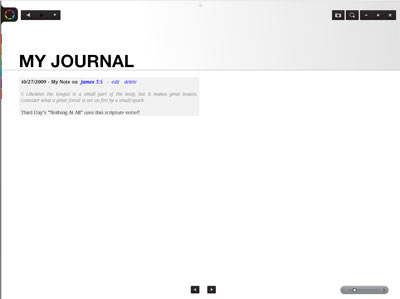 MyGlo
Finally, the last lens is titled "MyGlo." MyGlo lists what features will be coming soon. It lists Animated Maps and a Reading Plan, scheduled to release next month, as well as an Audio Bible and Expert Videos (from Max Lucado, Joel Hunter, and others) both releasing in in the first Quarter of 2010. Lastly, it lists "My Apps" which features the HD "In His Shoes" documentary, and "My Journal," which compiles your scripture comments and notes into one location. I was under the impression you'd be able to actually write journal notes directly into the journal, but apparently it only compiles notes you make elsewhere in Glo. Still, it's pretty nice that it also attaches the scripture to your journal along with your note, so you can make your own personalized study if needbe.
In Conclusion…
Overall, I have to say I'm really impressed with what Glo has to offer. While it's hardly a substitute for the feeling of holding the pages of the Word of God in your hands to browse through and reflect on, Glo is a wonderful tool and essential for your Bible study needs. Those wanting a quick and easy reference for their teaching needs will also enjoy having this digital tool. The maps, photographs, virtual tours, and artwork are a nice addition to the Word and I myself look forward to digging in a bit more to bring an added dimension to my personal studying. With everything going more and more digital and handheld, it'll be intriguing to see where Glo goes next. The fact that they're already planning new features is exciting, and I'd love to see this becoming handheld (aside from a laptop) in the near future. What a great resource!
– John DiBiase
Visit www.bibleglo.com to learn even more about Glo!
And purchase your copy of Glo on sale right now at Amazon.com