Have you ever wondered what happens while a music video is being made? Me too! Thanks to the awesome fellas in Abandon… my curious hunger has been fulfilled.
It was a cold February morning when I made my way to the small city just outside of Atlanta known as Maysville (trivia time! It's also where Sanctus Real's video for "Forgiven" was filmed!). Its GPS location is somewhere between "Oh my gosh, where are we?!" and "I'm pretty sure we're lost!" Honestly, it was in the middle of nowhere. To even say it's "just outside" of Atlanta would be a lie; if that fact were true then I'd be just outside the weight bracket of being able to wear an XL t-shirt.
Anywho, the day began with the joys of Atlantian traffic! Fists balled up and teeth a' gnashing! This day was not filled with anger but with anticipation… for the hunger that was about to be fulfilled and simply the fact that I was just super stoked to meet these awesome musicians. A few days before, I was given an advanced copy of Abandon's sophomore album "Control" (which streets next week), and to say the least, it rocked my face off. Thus, I wanted to at least shake these guys' hands and say, "Thanks for making some flippin' awesome music!" As I made my way out of the city and further north into the wilderness of the metropolitan area, I was trying to find the appeal of shooting a music video in the middle of nowhere. I'm pretty sure I heard banjos a number of times. [Especially as I passed by homes decorated with Confederate flags. Give it up fellas, the North won and it made life better for all of us!]
As we rolled into the small town, I could see why someone might want to live in such a cute area. It has some adorable buildings, Victorian style homes, oh… and plenty of broken down shacks that scream, "Feature me on Paranormal State!" But in all honesty, it's a very attractive town with lots of character and some incredible Mom & Pop restaurants.
As I arrived to the location of the shoot, I quickly had to put on my game face. The first person I got to meet was the video's director, Nate "Dust" Correna. Yes, Dust from Mars Ill! Can you say "switch hitter"? I can. At first he looked like an intimidating guy, but then he ended up being so cool and welcoming. Not wanting to eat away at any of his time, I quickly said, "Hello," and got a chance to say a short greeting to Abandon's lead singer Josh Engler. After meeting a few more of the crew, it was time to meet the rest of the band… but looking around, they were nowhere to be found. Suddenly, like a bunch of rock stars on the red carpet, they all got out of a limo and began to strut towards me. And by "limo" I mean an econoline van and by "strut" I mean shiver as they walked. People from Texas can't handle the humid cold of Georgia, not like I can either but like I said before "game face".
As we exchanged greetings, I could already tell that this was going to be a great time. Each one of the guys is so different but so relatable that it's almost surreal. As we sat in the van, I was able to ask my planned interview questions and got to know the guys a little bit more. Watching how they interact with each other, whether poking fun or praising one another, it was obvious that these fellas are not just friends or band-mates… they're brothers. And no doubt from the time I arrived to the time I left, these were some of the most genuine people I've ever met, and I don't just mean people in a band. Even though I was there to see them in action, they weren't trying to impress anybody and welcomed me with open arms. Listening to their hearts for ministry and their passion for doing what God has called them to do was absolutely inspiring.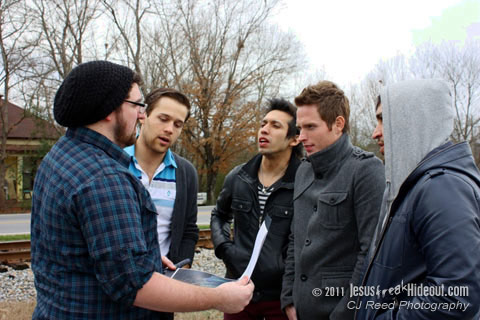 While we were wrapping up the interview, a couple of the guys had to go assist in a new scene for the video. So for a brief moment, I got to talk with Justin, the rhythm guitarist, about the trials and tribulations of being on the road. With a raw and transparent attitude, Justin didn't sugarcoat or glamorize anything. He was very real about how difficult it can be being away from his wife and family, and also about how shows have to really be strategically planned out. While some artists can put makeup on their situations, the guys in Abandon aren't about that; they are all about being transparent before everyone! Which in reality is so refreshing! In addition to that, they are all ridiculously funny. From what I saw, I think this will be mildly captured by their video.
After Josh had finished his scenes, I got a chance to talk with him about his role in Abandon and about a pinch of what God's been showing him in life recently. You can tell he's a deep thinker and a very honest person, which is once again pretty awesome. He really has a heart for loving people, regardless of circumstance and situation. (Can anyone say "conviction"?) When all was said and done, I got to pray with him and we said our goodbyes. It was one of those moments where "the bond of peace" and "brothers in Christ" really made sense.
With all of the scene changes and set hopping it was time to say "adios" to the guys and the crew. In my humble opinion, I think the video fits the general theme of the song. Without giving away the plot of the video… let me just say the tennis rackets are my favorite. I will also say this; it does not look easy to film a music video. I'm not a hundred percent sure why, but the guys had to learn their song at twice the speed and perform it that way. Plus… they had to go to Middle-Of-Nowhere-Maysville, Georgia to film it! (However, let me state that Nate's DustBrand Films is sure to make this an awesome video!)
You know, at first I thought I was going to go just meet up with the guys from Abandon and watch them shoot a music video, but instead I got to meet Josh, Justin, Bryan, Stevan, and Dave… five brothers in Christ. I think that beat out my original plan completely and for that, I am truly grateful.
— Ryan Barbee