It's Christmastime again! Yes, Thanksgiving is over, so for those of you who wait until the turkey is fully digested to even think about jingling bells, the time is here.
If you're like us–and especially, me–you've already dusted off some Christmas records or plopped a batch of Christmas favorites onto your mp3 device to start getting into the holiday season again. And each year, there's new Christmas music that tosses their proverbial hats into the ring in hopes to join your annual rotation of holiday favorites.
But what albums do you return to each year?
SOME STAFF FAVORITES
A couple of the JFH staff rounded up a list together of standout albums that we turn to each Christmas season from artists in the Christian music realm. Here are just a few of them: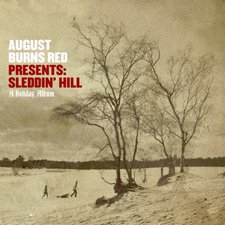 August Burns Red – Sleddin' Hill: A Holiday Album (2012)
Jars Of Clay – Christmas Songs (2007) (and the follow-up 2011 indie EP, More Christmas Songs)
Family Force 5 – The Family Force 5 Christmas Pageant (2009)
Relient K – Let It Snow Baby, Let It Reindeer (2007/2008)

Future of Forestry – Advent Christmas EPs (2008, 2010, 2013)
Rebecca St. James – Christmas (1997)
David Ian – Vintage Christmas (2011), Vintage Christmas Wonderland (2013)
Kevin Max – Holy Night (2005)

Project 86 – This Time of Year (2008), The Midnight Clear Single (2012)
Of course, many artists just do a song or two, and for me, ones that come to mind are Switchfoot's "Evergreen" and "Old Borego," Audio Adrenaline's "Little Drummer Boy," Supertones' "Joy To The World," Five Iron Frenzy's "You Gotta Get Up," NEEDTOBREATHE's "Go Tell It On The Mountain," PFR's "Wonderful Christmastime,"  Charmaine's "Angels We Have Heard On High," Seven Day Jesus' "O Holy Night, Joy Williams' (before The Civil Wars) "Have Yourself a Merry Little Christmas," Plumb's "It's Christmastime," and TobyMac's "Christmas This Year (feat. Leigh Nash)," among others.
NEW IN 2013
If you're looking for NEW music that's released this year in 2013, several projects have been released including (but not limited to):
Singles: Group 1 Crew ("Holly Jolly Christmas") [iTunes], Britt Nicole ("O Come All Ye Faithful") [iTunes], and Love & The Outcome ("Emmanuel") [iTunes].
Full-length Albums: Brandon Heath (Christmas Is Here), Falling Up (Silver City), Dave Barnes (A December To Remember), Sidewalk Prophets (Merry Christmas To You), and Paul Baloche (Christmas Worship), John Schlitt (The Christmas Project), among others.
EPs: Citizens, (Repeat The Sounding Joy), Meredith Andrews (Behold The Savior), for King and Country (Into The Silent Night), Future of Forestry (Advent Christmas, Vol. 3), and The Rocket Summer (Christmas Madness).
So there's really quite a bit to choose from — what are YOU spinning this holiday season?