Ever since I was in my mid-teens, I've experienced the unique phenomenon where a band — or in this case, an album — doesn't really strike a chord with me until I have experienced it live. Bands like Code of Ethics, Bride, Sixpence None the Richer, John Reuben, and more recently Seabird and Remedy Drive, were all artists that I didn't appreciate until after I had seen them live. Years ago, I almost immediately enjoyed Leeland's debut Sound of Melodies, and then especially took to their follow-up, Opposite Way, which contains what may be my favorite track from the band (the title track). Recently, I had the pleasure of seeing Leeland perform a hearty number of songs from their newest record, The Great Awakening, and their live performance, coupled with front man Leeland Mooring's passionate and inspirational talks, stirred my heart to worship.
Since that show, I've been spinning The Great Awakening more than I did when I had first heard it last summer. I hadn't love the band's more radio-friendly third album, Love Is On The Move, which colored my first impressions of The Great Awakening unfairly. Their newest effort is a balanced blend of pop, worship, and just enough of an indie feel to keep it all feeling relatively fresh — and it's an album that becomes more and more rewarding with each listen.
So if you've yet to give Leeland a chance, or they may have lost your attention an album or two ago, pick up The Great Awakening (or check it out via Spotify first?). It's one of the best worship projects of 2011.
– John DiBiase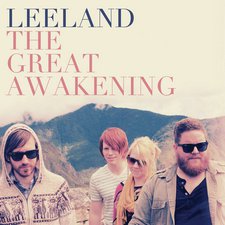 Leeland
The Great Awakening (2011)
Click here for our review of the album.
Our synopsis: "Leeland's latest is an indie-flavored pop worship album that gets better with each listen. It's one of the more rewarding listens in its genre." (Recommended by JFH's John DiBiase)
Perfect For: Worship, Encouragement, Revival
Song Highlights: "The Great Awakening," "All Over The Earth," "Chains Hit The Ground," "Pages," "Not Afraid Anymore," "Unending Songs"
So, what are your thoughts on and experiences with the album The Great Awakening? Do you recommend it? If so, why?