Each of the following twelve albums turning twenty years old in 2017 have shaped me in some way or another. These were all ones that I discovered on my own, outside of my parents taste or Youth Pastor's influence. I remember listening to many of them through headphones in the local Christian bookstore, either attracted by the album art, or a recommendation from CCM magazine. I debated, and went back and forth about ranking them and decided on the order below after much self-inflicted angst. My hope in writing this blog is that you too once enjoyed these and would dust them off and give them another listen in honor of their twenty-year-old birthday. Or maybe you were too young to encounter these, or missed them the first time around and this could be a grand introduction to what I believe is really great music from the era. Either way, if you are inclined, join me in wishing these albums a happy birthday! Here's hoping you enjoy, and maybe they'll come to mean as much to you as they do to me.
12. MercyMe – Traces of Rain 

I first heard MercyMe at a youth camp in the late 90's, and then again as the band for a tent revival that my youth group attended at another local church. This is an album predominately of worship cover songs (with 3-4 originals mixed in), but it had heavy spins for me back in the day, burning these songs into my brain. They'd go on to much bigger things in the coming years, but I enjoyed songs "Ain't No Rock," "Mercy is Falling," "Stirring," and "If I Could Just Sit With You Awhile." This is probably the hardest of the albums on this list to come by as it was a self-released, indie album.
11. Delirious? – King of Fools

My introduction to Delirious? was the song "Deeper" from one of those samplers that was $1.99 or was free with a purchase of one of the featured artists. It's still a great song all these years later, and it remains a favorite from the decade. The King of Fools album is strong overall and the U2 influences abound. Opener "Sanctify" is a great tune, and sets the tone well for the arena sized worship songs that will follow. Other highlights are the tender "All the Way," flat out rocker "Promise," long time classic "History Maker," and the slow burner, but epic, "King or Cripple." A huge hit in England (their homeland), this is the one that really put Delirious? on the map, and made the rest of the world take notice.
10. Sixpence None the Richer – Self-Titled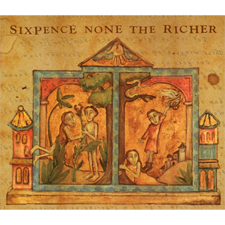 Sadly, the true genius of this melancholy, yet amazing album is overshadowed by mega smash hit "Kiss Me." That is a shame because, although "Kiss Me" is a fantastic and whimsical pop ode to love, it is far from the best track. I'm not sure I could pick a true favorite, but each song creates a feeling of waiting, frustration, and loss. "We have Forgotten, "Anything," and "Waiting Room" set the mood of those themes extremely well. You can hear a palpable yearning in lead singer Leigh Nash's voice throughout. "I Can't Catch You" is an upbeat ditty that stands out upon repeat listens, and "Lines of my Earth" is another personal favorite. Also worth noting is the amazing cover art by D.L. Taylor. Best listened to in its entirety, you cannot go wrong with any song here, and I believe this remains arguably their best overall work to date.
9. Third Day – Conspiracy #5

I had forgotten just how good Conspiracy #5 truly was until listening again in preparation to write this blog. There are some great songs here! Some would balk at the ranking of it so low on this list, but although it is a fantastic album, I still prefer their self-titled album and Time more. My favorite from this list of songs is "This Song Was Meant for You," and I can't quite put my finger on why. Probably the most straight ahead rock album that Third Day ever did, Conspiracy #5 holds up well to the longevity test; much better than Mac Powell's bleached blonde hair anyway! There really are no filler songs among the bunch but my standouts are "You Make Me Mad," Hootie and the Blowfish sound alike "How's Your Head," driving rocker "Alien" and the worshipful concert staple "My Hope is in You". They have yet to return to this musical sound, but many maintain this is their favorite work of their long and storied hit-making career.
8. Reality Check – Self Titled

The band Reality Check delivered a ferocious self-titled debut that sadly was the only thing they ever released. Whether it was just a band headed separate ways, musical direction, or the burden of the"next Dctalk label," they joined the list of many one-hit-wonders of the 90's. Known for their energetic live show that once broke a stage, they featured tight harmonies, loud rock guitars, and rap all mixed into one. I first heard their work from another of the $1.99 sampler albums with the songs "Masquerade" and "Know You Better." One listen to "Masquerade" had me hooked and I quickly went out to pick up the entire album. The songs "Plastic and "Losing Myself" are two other major favorites from the album. It is too bad they did not do more together as I was eagerly looking forward to more from them.
7. The O.C. Supertones – Supertones Strike Back


One could argue that the O.C. Supertones' release Supertones Strike Back is THE quintessential CCM ska release. Personally, I think that it is, though The Dingees and Five Iron Frenzy could hold their own in the argument well enough. Ska is certainly an acquired taste, but in 1997, I was all in. I saw them in concert at Atlanta Fest with their orange jumpsuits on and it was an amazing show. I owned their orange "Little Man" t-shirt and I quickly wore out both the album and the shirt. Even to this day, I'll have a hankering for some ska and slip this album into the family van's six-disc changer for long road trips. Some of my favorite tracks are "Supertones Strike Back," "Louder than the Mob," "Unite," "Tonight," and "Little Man." Great for road trips, cleaning house, or lounging by the pool!
6. Seven Day Jesus – Self Titled


Man, so many great hooky guitar pop/rock songs here! This was my first exposure to the band, and though I'd go back later and hear their excellent record The Hunger, this one is still my favorite of theirs. Sadly, they didn't last as a band beyond this album, but what a great way to go out. Great songs abound, like opener "Down With The Ship," "Always Comes Round," "Everybody Needs Love," and my overall favorite, the ear-worm, "Butterfly." Definitely a must-hear album for fans of solid pop/rock!
5. Switchfoot – The Legend of Chin


My introduction to Switchfoot came at the now out of business Family Christian Bookstore. After encountering lead track "Chem 6a" on a sampler, I had to check out this raw surfer rock/alternative band. The droning sounds of "Bomb" and bouancy of "Underwater" had my full attention and I don't think I even needed to listen to the rest of it.  I was motivated to buy The Legend of Chin enough to manipulate my younger brother (who cared very little for music) into buying it because I only had enough money for another album clutched in my teenage hands. I can't for the life of me remember the other album but I'm certain it hasn't stood the test of time as this debut release has.  I still appreciate the production at the veteran hand of Charlie Peacock these twenty years later. It allowed for a truly raw and somewhat endearingly sloppy sound that has stood the test of time well. Other great tracks are the cleverly titled "Might have Ben-Hur," the slow burning "Concrete Girl," and string-soaked "You." A fantastic start for a band that only got better with each release, Jon Foreman and company are still going strong and have rarely "letdown" fans with any of their subsequent releases.
4. Caedmon's Call – Self Titled


The acoustic folk sounds of Caedmon's Call were largely new to my young music listening career, and aside from Jars of Clay's Self-Titled debut I couldn't tell you what else in that musical vein I had heard. I was enamored with this CD for a long time. This album served as a major catalyst to cement what has become my preferred musical taste with the softer side of pop/rock that features thinking man's lyrics. Opening track "Lead of Love" starts things of well with a tasty organ line (and anyone who knows my music taste knows I'm a sucker for B3 organ!) and the intricate three-part harmonies of Cliff Young, Derek Webb, and Danielle Young. Certainly, another highlight of the album and their entire discography is the song "This World" and its realization that, "This world has nothing for me/And this world has everything/All that I could want/And nothing that I need." Probably their most well-known song is a cover of the late Rich Mullins song called "Hope to Carry On." In concert, it was often paired with another Mullins song "I will Sing," which you can find on their Greatest Hits release "Chronicles." For some reason, this one isn't on Spotify yet though the rest of the catalogue is, but it's a worthy addition to anyone's music collection, and worth the extra effort to track down.
3. Smalltown Poets – Self-Titled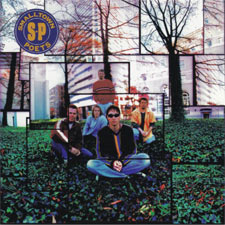 My introduction to Smalltown Poets and their self-titled debut was at another youth camp in the summer of 1997. All the college kids that were staffing the camp had their hands on classic Poet's tracks "Prophet, Priest, and King," "Everything I Hate," and "If You'll Let Me Love You" and they were featured as part of the week's soundtrack. I loved the roots rock sound and was taken by the honest and earthy lyrics. Another favorite song is the earnestly soaring "I'll Give." In fact, I would put the first five tracks of this album up against almost any other 90's CCM release and I believe it they would hold their own in that discussion. "Monkey's Paw" is the hardest rocking of this set of songs and features a nice guitar solo at the 1:30 mark. Also worth noting is the song "Trust" which features the beautiful chorus, "Take this bread/drink this cup/Know this price has pardoned you/From all that's hardened you/But it's going to take some trust." This album would make any top 25 album of the 90's CCM era in my personal rankings.
2. All Star United – Self Titled


With the right amount of snark and rock/alternative sounds All Star United exploded into my ear canals as a baby faced sixteen year old. I was a homeschooler raised right, with sarcasm being one of my better and favorite subjects and this album practically drips with it. Lead singer Ian Eskelin had a knack for using said sarcasm to make a much needed point. I immediately took to songs like the exuberantly piano driven "La La Land," guitar heavy "Bright Red Carpet," and  the mock "la la la's" of song "Smash Hit." Jesus just needed better PR right?! Two other must-hear tracks are the organ flourishes and "woohoo's" of "Beautiful Thing," and the bouncy "Tenderness." Really you can't go wrong with any track on the entire CD as it's another album that's high on the 90's list of all-time greats. For fans of great pop/rock/alternative with lyrics that will make you examine yourself, and laugh at some of the dumb things we as Christians say and do.
1. Jars of Clay – Much Afraid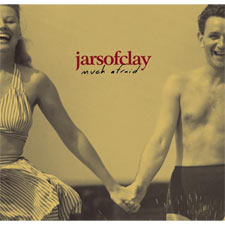 My relationship with Jars of Clay's follow up to their Self-Titled masterpiece is a complicated one. Originally I was disappointed, as there weren't many similarities save "Fade to Grey" and "Frail" (which I was to discover were actually written in the same time period as the Self-Titled). But over time, I began to appreciate the evolution of sound. Much Afraid felt more polished, less organic which isn't bad, just different. There were still the strings that I loved, but it was more of a rock record than it's predessesor. This is still a highlight of their long and storied career. Other than the previously mentioned songs, other favorites for me were/are "Overjoyed," with it's almost whispered beginning and then build to guitars with tight harmonies, "Crazy Times" with it's searing guitar solo from Stephen Mason, and the tender closing song "Hymn" with it's hymn-like structure and poetry. I could go on and on, but suffice to say, though some claim this as their best overall,  I personally would rank it at two or three among an astoundingly solid discography. This one is a must own for all fans of music!
Well, I hope you enjoyed the journey of this countdown of what I belive was an amazing year for CCM. If you grew up with these I'd love to hear the stories and memories that you have attached to certain albums or songs. If you've never heard many of them, as a self-proclaimed CCM music historian I beg you to at least give them a listen. If you are a music streamer most can be found on Spotify or previewed on Itunes, or purchased on the cheap from Amazon. Happy listening!
Lastly, because every list has to have a cut off there were a few honorable mentions that didn't quite make it for me. Not that they were lesser, they just weren't ones I personally connected with or I didn't include because they were a greatest hits album (which I feel like is cheating, though I almost caved for PFR). I listed a few other 1997 albums deserving mention below. So did I miss anything? Agree with the ranking? Disagree? Love to hear from you!
Honorable Mentions: 
Audio Adrenaline – Some Kind of Zombie, Chris Rice – Deep enough to Dream, PFR – The Late Great PFR, Considering Lily – Self Titled, and The Waiting – Self Titled